For our instructions and tutorial, we are using the VPN services from Kovurt.com. You can use any service you like, but we prefer Kovurt.
After you confirmed your Kovurt subscription, we sent you an email. Inside that email you should see something like the following:
===============
Your VPN Username: username
Your VPN Password: password
===============
The good news is that you do not need to install any more software! Everything you need is already on your computer. Follow the easy steps below to start using "L2TP over IPSec" on Kovurt VPN:
1) In your "System Preferences…" click the "Network" icon.
2) A window will open and in the bottom-left corner you should click the "+" icon.
3) In the "Interface" please choose "VPN". Then for "VPN Type" choose "L2TP over IPSec". Finally, for the "Service Name" you can anything you like, so "KOVURT VPN" is a good choice to type in this field. Finally, click "Create".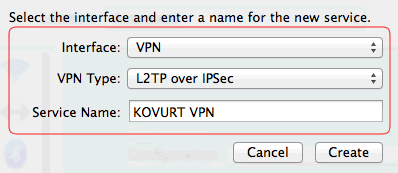 4) Now in "Server Address" you can choose ot add any server from the list we emailed to you after you registered. For example you can add "us2.kovurt.com" or "uk2.kovurt.com" or jp2.kovurt.com" or any of more than a dozen more. Then in "Account Name" you should type your "VPN Username" that we emailed to you — usually this will be your email address, but you should double-check the email to make sure. Finally, click "Authentication Settings…".
5) In the "Password" area please type the "VPN Password" that we emailed to you after you registered. In the "Shared Secret" please type "mysecurevpn". Then click "OK".
6) Next click the "Advanced…" button.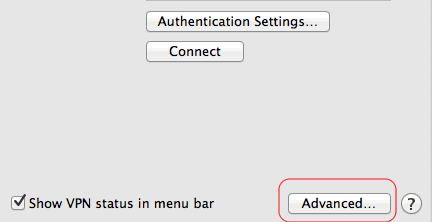 7) Make sure the "Send all traffic over VPN connection" link is ticked. Then click "OK".
8) First click the "Apply" button. Then click the "Connect" button. You will then connect!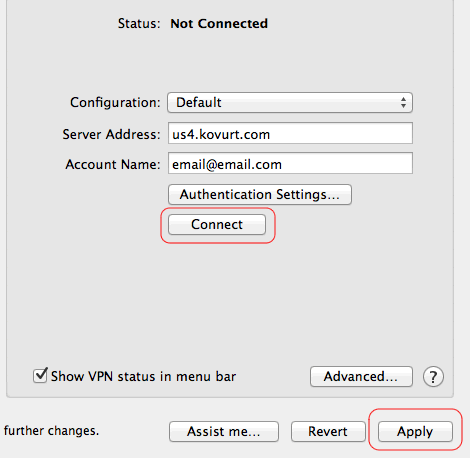 9) Another easy method to connect is to go to the top of your computer screen and dropdown the "VPN" icon. Then click the "Connect KOVURT VPN".